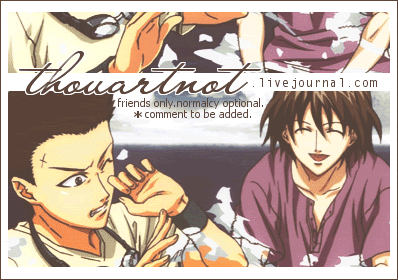 Right off the bat I'm making my journal friends only. It's only taken me half a century to actually create an account, and now that I have one I want to maintain some of my privacy from the crazies of my real-life (Jess you're not crazy, I love you!)
Anyway, check out my interests for a glimpse at what I enjoy and/or obsess about in life. I have quite a few fandoms I enjoy, but only a handful that I am crazy about *high-pitched scream* I enjoy
anime
, but it is not my life. My life is poo basically, so yes, go me. I also like
music
. Everything from rock to pop to jazz, I'm there. I'm pretty much your average college girl working to put herself through school. It is a joy, yes indeed.
Apparently, it has come to my attention that I am rarely on here, so don't expect much from me in the way of mind-blowing entries. I do not question the universe or the cosmos much, nor do I talk about things like "OMG!!! BOY
#1
said hi to me today! Liek, totally wow!!!!" That makes me gag a little.